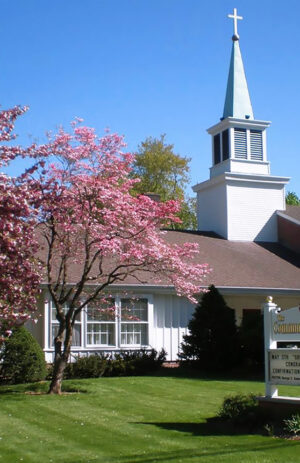 Sharing God's Love Within the Community
We live in a world where we keep so busy, yet we wonder if we're getting anything done - if there's meaning in any of it.
Christ pours meaning into our lives by showing us who we are created to be.
We live in a world with such a frenetic pace, where we are anxious and uncertain.
Jesus brings us peace by showing us how deeply we're loved.
We live in a world in which we are surrounded by people and yet we often feel alone.
Christ calls us into a loving community.
Here, in this church, we are in the process of discovering the meaning, peace, and life-giving love of Jesus Christ.
We invite you into that journey with us.
Mission Statement
(why we exist/who we are)
Striving to be what Christ tells us through Scripture
. . .
Vision Statement
(what we want to be)
A community of caring believers who worship together and aspire to grow and share our faith as we live out our lives aligned with the life and teaching of Jesus Christ
. . .
Guiding Principles
Belonging together - Fellowship - Becoming people who practice the love and care of Christ for each other.
Building Faith - Discipleship - Becoming people who are gradually becoming more Christ-like.
Beholding God - Worship - Becoming people who connect with God in worship.
Bearing Fruit - Ministry - Becoming people who find and follow how God's calling and crafting us for ministry.
Bringing others - Evangelism - Becoming people who assist the Spirit to help others make connections with Christ.
Being One - Unity - Living as people who are one, not letting barriers of ethnicity, education, economics, theology, or personal feelings divide us.
Bestowing Mercy - Helping people in need - Becoming people who serve the world in compassion and love.
Boosting Ministry - Administration and leadership - Becoming people who figure out structures that encourage all these things to happen.